Make your store a destination
My Local Pizza
Launch your own on-site pizzeria with our fully-inclusive My Local Pizza package. We provide everything you need including operations and training guides, marketing support, point-of-sale, and event on-site assistance to help you turn your store into a destination for gourmet pizza.
We offer the perfect solution to complement your existing deli or kitchen space to maximise sales.
The Ultimate Pizza Solution
DRIVE MORE SALES AND MAXIMISE YOUR PROFIT 4 WAYS
Hoppers Group • Hollturns Group • Spanos Group • Ambarella Fine Food • IGA Carindale Metropol • IGA Beachmere • Tweed IGA • Spar Oxenford
More Than Just Delicious Pizza
WE GIVE OUR CUSTOMERS EVERYTHING THEY NEED TO SUCCEED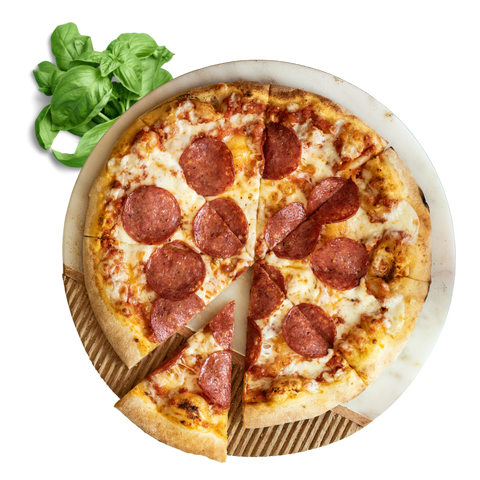 Gourmet Artisan Products
Handmade in Italy, nothing beats the artisan authenticity of our products. We can guarantee consistency and quality every time - even your 5-year-old nephew can be a master Pizzaiolo with our bases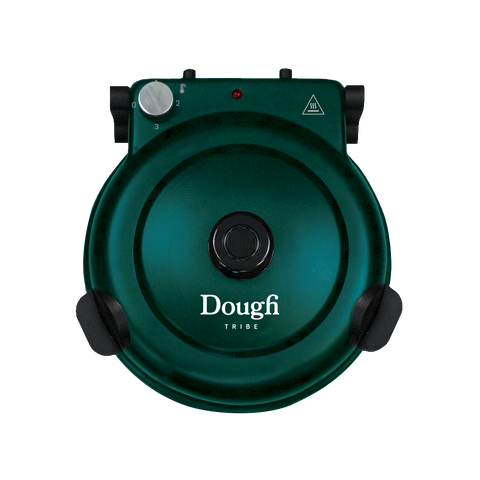 Premium Quality Chef Tools
We equip customers with a FREE* Pizzeria Pro Stone Base Pizza Oven. Our custom-designed oven cooks our pizzas in 4 mins or under, allowing quick and easy service for any business. *Subject to T&Cs.
Operations & Financial Support
We provide customers with free operations support to launch their pizza menu AND a range of financial packages to aid retention and growth. From training resources to volume discounts we ensure customers can hit the ground running.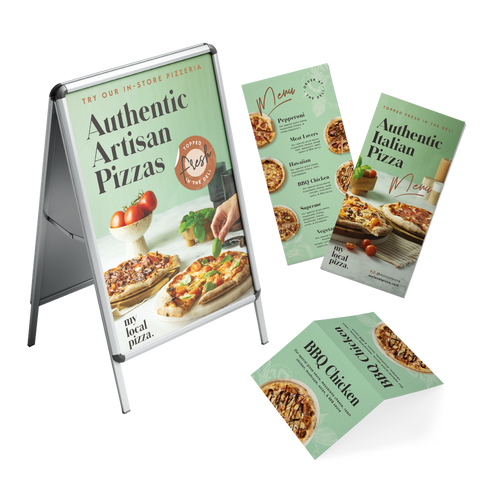 Marketing & Sales Support
We offer packaging solutions AND a library of FREE marketing tools and to help drive pizza sales. From eye-catching menu designs to weather-proof A-Frames, we help effectively merchandise and grow awareness of customers' pizza offering.
Our Mission
Our goal is to offer the most authentic, artisan Italian pizza right in your local grocer or deli.
Once we'd sourced only the highest-quality Italian ingredients to create our delicious My Local Pizza pizza bases, it was then our mission to support Australian businesses and farmers by using their locally grown produce to enhance our product range. 
Now, our My Local Pizza products combine the best of Italy with the best of local Aussie businesses - to create the ultimate convenient, healthier, irresistible pizza.
Why You'll Love Our Pizza Bases

Crafted in Italy by a Pizzaiolo who has more love for pizza than your Nonna. We deliver customers an authentic taste experience, without the travel.

Our dough features a combination of premium Italian flours that contains less gluten than regular flours, offering superb taste and easy digestion.

We give our dough the perfect amount of time it needs to leaven; achieving a light airy base and in the case of our Neopolitan bases, fluffy crusts.

Our dough is delicately hand-stretched to ensure each pizza base has its own unique appearance in shape, dough bubbles and char. No two bases are alike.

Our pizza bases are partially baked in traditional wood-fired stone pizza ovens, enhancing the aroma and flavour with a subtle hint of smoke.
Simply Top & Sell
EARN UP TO 70% GP & BEYOND IN 3 EASY STEPS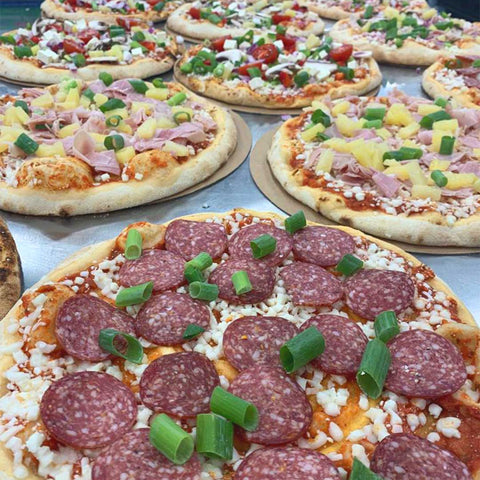 1. PREP
Add Your Toppings
Top pizzas using a selection of fresh ingredients available from your deli using our suggested menus or your own ideas. Top tip: prep pizzas in bulk and store in your freezer to defrost as needed.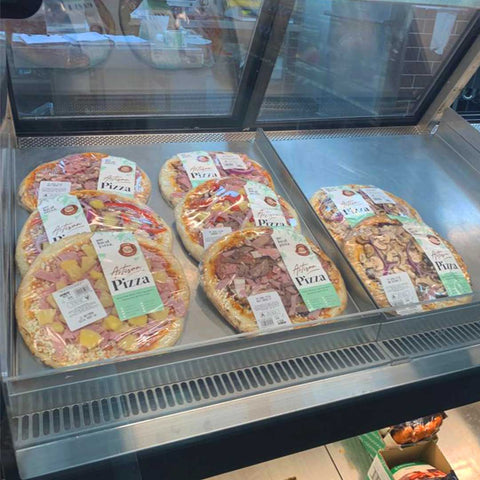 2. PACKAGE
Label or Box Pizzas
Wrap and label topped pizzas bases with our FREE My Local Pizza labels OR sell straight from your hotbox in pizza boxes! Add your deli labels to either for easy selling.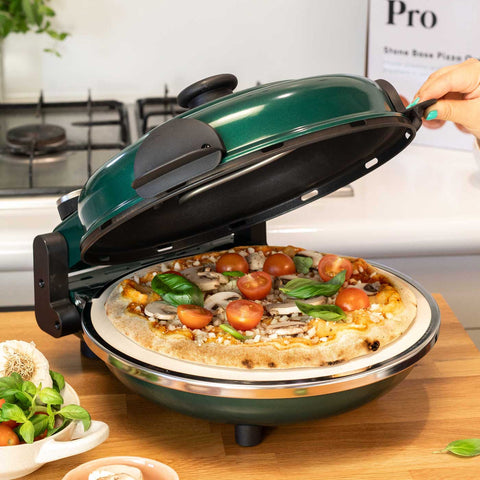 3. PROFIT
Sell Gourmet Pizza
Our gourmet pizzas cook in under 4 minutes using our Pizzeria Pro Stone Base Oven or convert your existing ovens into pizza ovens with our recommended settings.
Why Do It?
My Local Pizza is the perfect solution for enhancing your grocery store's offering with our line of gourmet pizzas. Unlock a new premium revenue stream and easily leverage your existing cooking tools, such as utilising your current ovens as pizza ovens!
Turn Any Commecial Oven Into A Pizza Oven
WE HAVE SPECIFIC SETTINGS FOR A RANGE OF BRANDS AVAILABLE UPON REQUEST








Our tomato sauce is made up of pure San Marzano tomato polpa, with a combination of our finest herbs and spices. The fresh flavour is achieved by excluding sugar and preservatives.
Creamy Italian Mozzarella
Our stringy Italian Mozzarella melts to perfection. With our continuous investment into product development, we can ensure even spread to deliver the ultimate cheese pull.

Reduce labour time with our Margherita bases - all you have do it add fresh toppings and wrap or cook to offer the most authentic Italian Pizza your customers will keep coming back for. Any skill-level can cook our pizzas to perfection!

When grated cheese is in the picture there's no avoiding waste... except with our Margherita. Say goodbye to scattered cheese all over your work benches that ends up in the bin. PLUS miss out on 40% cheese & tomato price increases.

Customers are willing to pay more for premium food experiences. You just have to taste our pizza to understand why. Let's face it, who wouldn't want to be transported to Italy with every bite?
Partner Perks
Our Premium Partner Plan gives you access to our full range of branded point of sale and packaging materials and professional oven and equipment - as well as ongoing operational support - so that you have everything you need to start your very own in-store MLP Pizzeria! We also help you host your own in-store Pizza Happy Hour event to launch your pizzeria with a buzz!
Pizza Happy Hour Inclusions:
Staff training - oven operations, pizza make-line, best practises
4 x Happy Hour Events (2hrs each) during high foot-traffic
My Local Pizza representative to help host the event on day
Pizza sampling station
Printed promotional flyers distributed pre-launch
Social Media marketing
All event equipment and Happy Hour promotional material provided to use on the day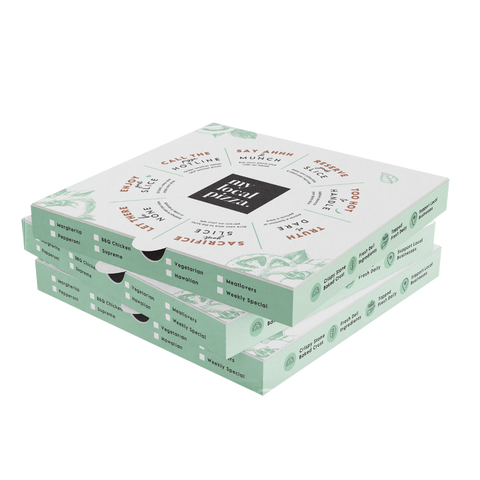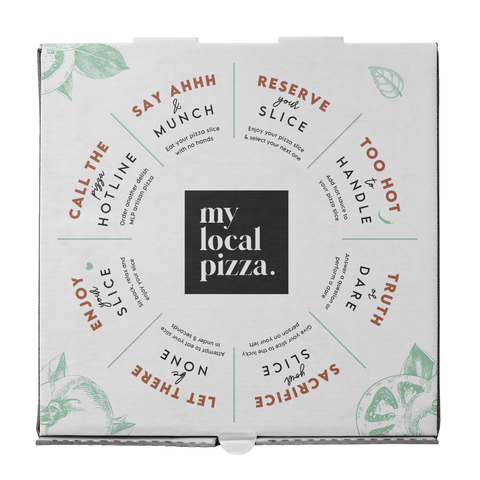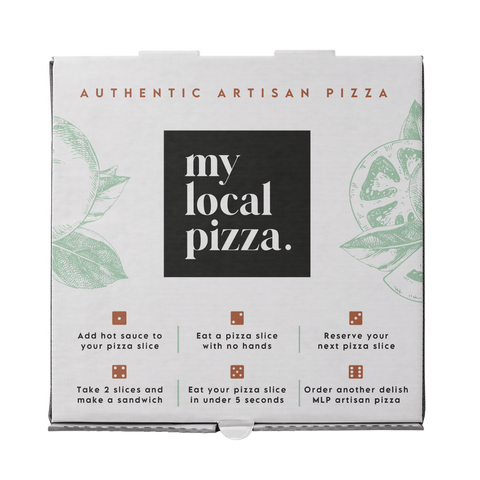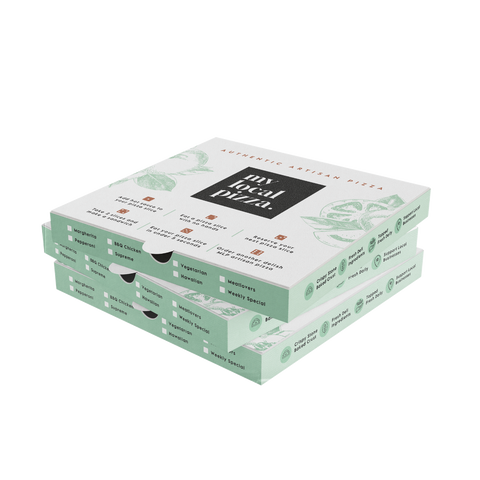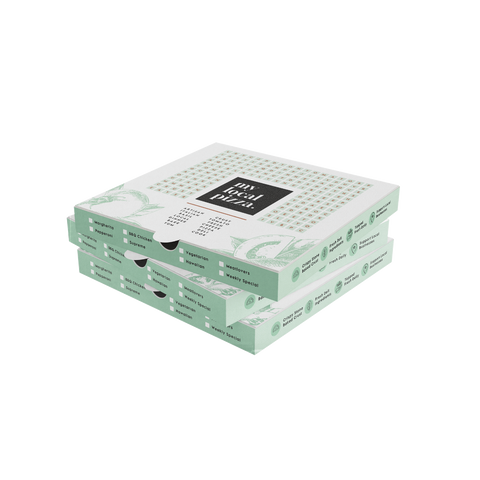 My Local Pizza
Branded Pizza Boxes
Build consumer engagement, loyalty and trust with quality packaging. My Local Pizza branded pizza boxes are available in 3 sizes, each with a unique, interactive design that your customers will love!
Whether consumers are enjoying a snack to themselves, or settling down for family pizza night, our variety of pizza-themed games will be an added bonus to their mouth-watering meal!
My Local Pizza Customer Offering
FREE* Stone Base Pizza Oven
Already have your ovens full? Our FREE* compact, Stone Base Pizza Oven offers you additional means for cooking pizzas in minutes without taking up much space!
Portable, electric plug-in and expertly custom designed to deliver crispy stone-baked pizza every time.
With top and bottom heating elements, your kitchen can serve pizzas cooked to perfection within a few minutes of ordering!
PLUS sell in your homewares section!
Our Pizzeria Pro Stone Base Pizza Oven is also perfect for retailers to stock on their shelves as a great high-value item that any food lover will want to add to their basket!
Contact our team to find out more.
Pizzeria Pro Oven Features

Heats to 400°C in 7 Minutes

Stone Base For Crispy Pizza

Compact Size & Non-Slip Feet

Cooks Pizzas in 4 Mins & Under
Energy Efficient Low Power Use

12M Warranty & Tech Support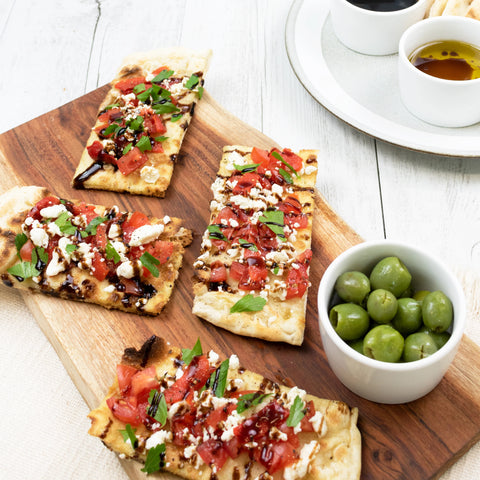 With these 4 easy pizza recipes using our versatile plain bases, you...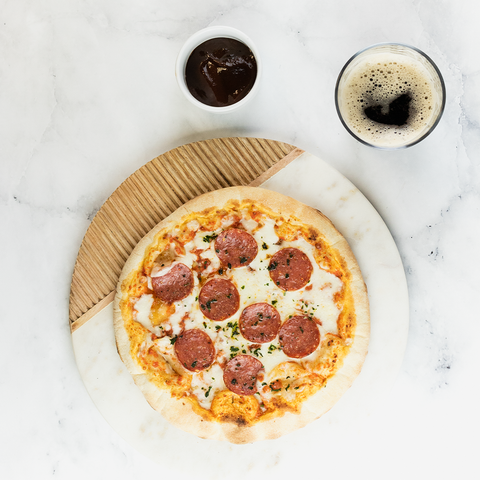 For the best pizza and beer pairings, we've put together a full list of our favourite pizza and beer combinations, from Margherita and Pale Ale to Pepperoni and Brown Ale, you can't go wrong with these beer and pizza pairings.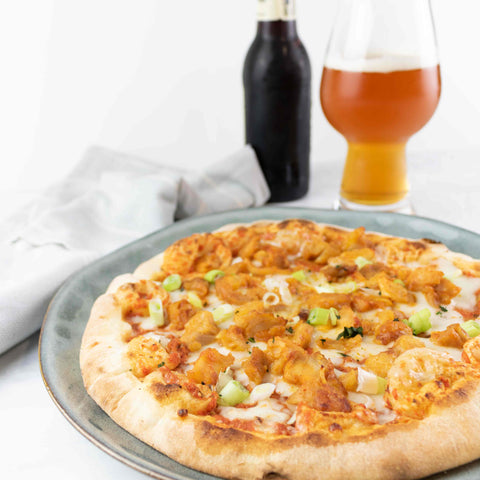 One of the best ways to increase sales, profits and customer satisfaction in your foodservice venue or restaurant is by introducing combo deals or "combination deals". You can easily maximise your profits by increasing your customer's overall total order value. Here's how...
Where can I find nutritional information?
Are your pizza bases Gluten Free?
Unfortunately, none of our bases are currently gluten-free. We do have a Gluten Free Plain Base in the works, if you're interested please contact our team.
Are your pizza bases Vegan and Vegetarian?
Our range of Plain Pizza Bases contain no animal and dairy products, therefore is vegetarian and vegan friendly. Due to the factory of production, it is mindful to note that they may contain traces of fish and soy.

Our Margherita Pizza Bases are vegetarian, containing no meat products. Due to the place of production, it is mindful to note that they may also contain traces of fish and soy.
Can I cook your pizzas from frozen?
We do not recommend cooking your Il Uno Artisan pizza bases from frozen. The cheese will not have adequate time to melt and may cause burning of both the cheese and base.

For best results, thaw/defrost the frozen pizza base for 30 minutes prior to cooking.
How many pizzas bases are in a carton?
This will differ among each product. You can find carton configuration information by viewing the 'Specifications' section on each product listing. You can browse all products here.
What is the shelf life of your pizza bases?
The frozen shelf life of our pizza bases (stored at -18°C) are as follows:
Plain Pizza Base = 12 months
Margherita Pizza Base = 18 months
The chilled shelf life is 3 days (72 hours). Once it is defrosted, do not refreeze.
My oven is faulty, what do I do?
If you find that your oven is faulty, request a new oven using this Oven Request Form