Little Bakes Sincerely Speculoos Biscuits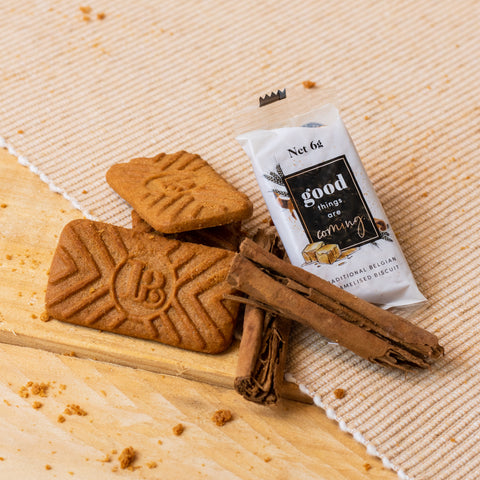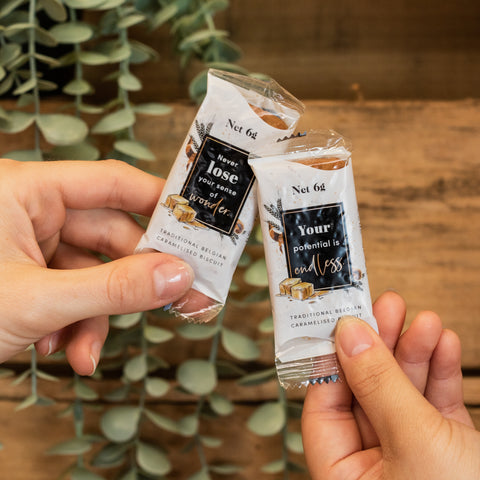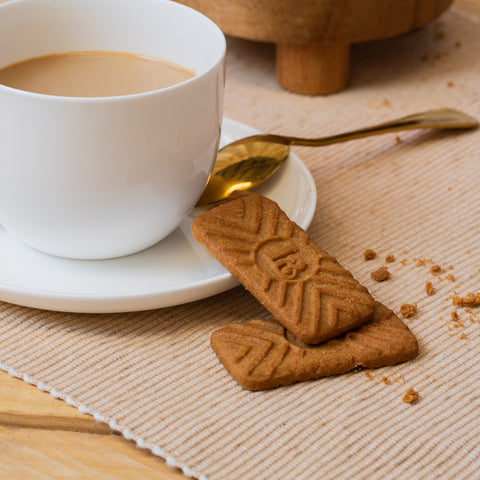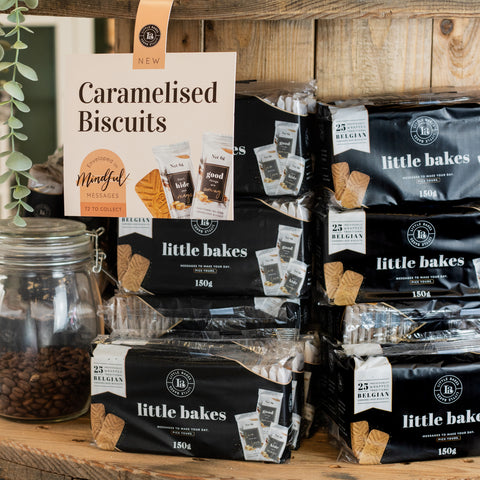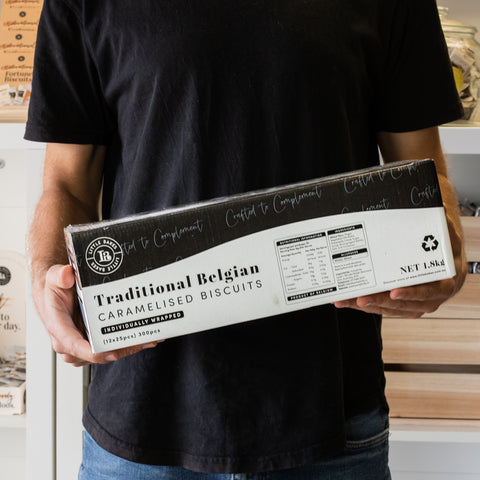 Treat your customers to a small bite of indulgence with our Little Bakes Sincerely Speculoos Biscuits! Delectably sweet and enveloped in unique mindful messages, our individually wrapped caramelised biscuits are vegan, nut-free and traditionally Belgian.
Whether you're offering them for free with coffee and tea as a loyalty driver or as a low-price treat in your venue, our Little Bakes Sincerely Speculoos Biscuits are perfect for delivering small moments of joy to your customers. 
One carton contains 300 biscuits (12 sleeves of 25 biscuits). Each biscuit unit is individually wrapped.
Get in touch to learn more and find out about your local distributor.
Why You'll Love Our Biscuits
Traditional Belgium Recipe
Crafted following a traditional Belgian recipe, these bites of indulgence pair perfectly with coffee and tea.

Our caramelised biscuits offer a delectably sweet cinnamon flavour that melts in your mouth and will have customers coming back for more.

More than just a biscuit, your customers will be left feeling uplifted and motivated with the mindful and motivational quotes that envelope our biscuits.

Build customer loyalty and increase customer retention with the 72 unique and delightful messages on our biscuits, designed to encourage mindfulness.

Vegan Friendly & Peanut-Free
Everyone can enjoy a small moment of indulgence with our vegetarian, dairy-free, and peanut-free biscuits!
About Little Bakes
Our mission is to spread meaningful moments of happiness through little indulgences, "just because". We pride ourselves in offering delectable bite-sized treats that encourage mindfulness and a positive mindset in all customers. After all, the smallest action can make the world a better place.

Our biscuits are caramelised to perfection and crafted to compliment, with 72 mindful messages. Put simply, we want everyone to enjoy the sweet things in life!
One Biscuit, Multiple Drivers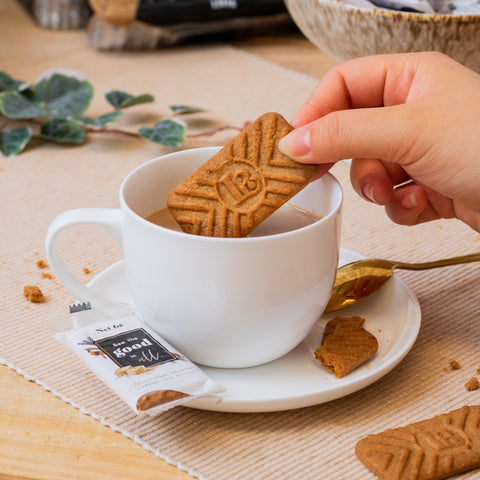 Customer Loyalty
Who doesn't love a free biccy? Reward customers with a sweet treat for shopping at your store, using your services or as a perk for coffee purchases.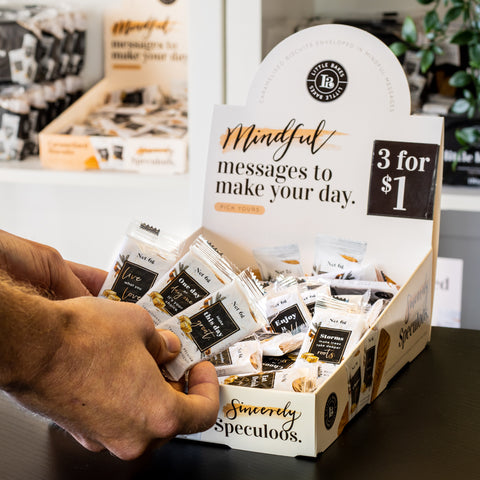 Impulse Add-Ons
With simple offerings like '3 for $1', you can easily boost low-cost, high-quality add-on sales with our individually wrapped biscuits.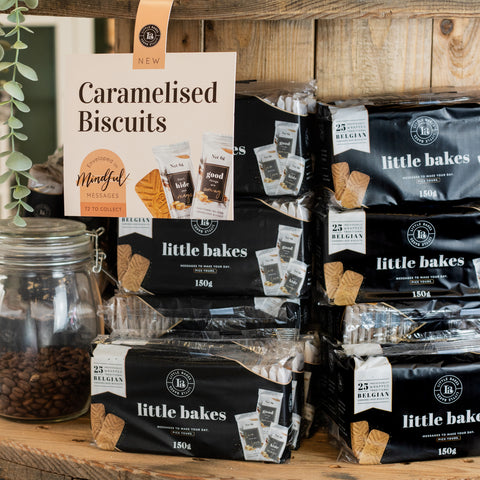 Retail Ready Packs
Earn over 50% GP by retailing our biscuits by the pack on your shelves. Once customers get a taste for them, they'll want a whole pack to themselves!


Free* POS Merchandising
ENQUIRE NOW ABOUT OUR COMPLIMENTARY POINT OF SALE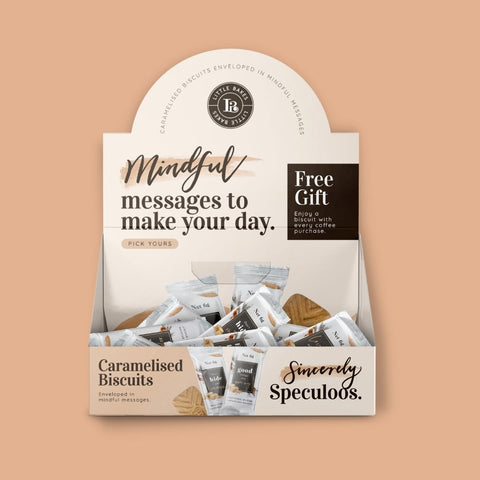 Counter Display
Choose from one of our 4 activations to increase low-cost impulse add-ons or reward customer loyalty.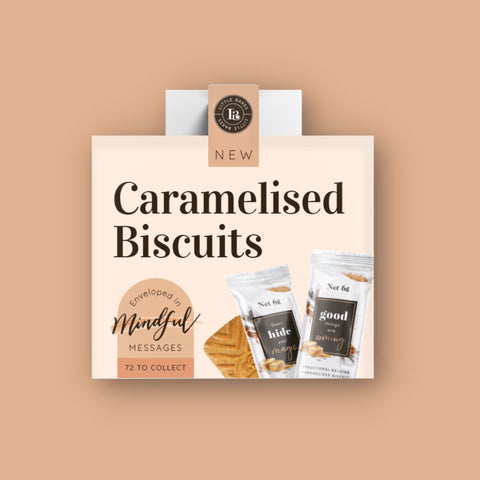 Shelf Wobblers
Level-up your visual merchandising with beautifully branded shelf wobblers that grab consumers' attention.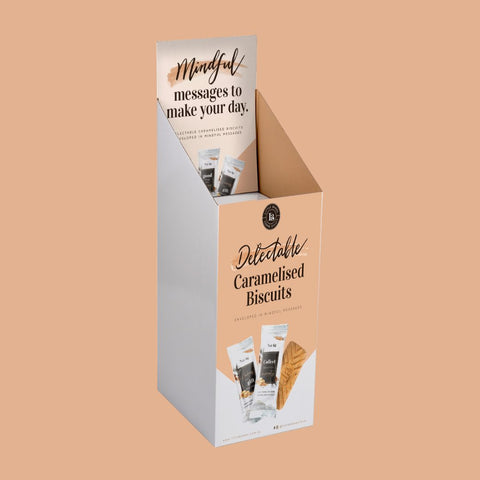 Dump Bin
Run multiple activations by filling dump bins with retail-ready sleeves or individual biscuits to sample.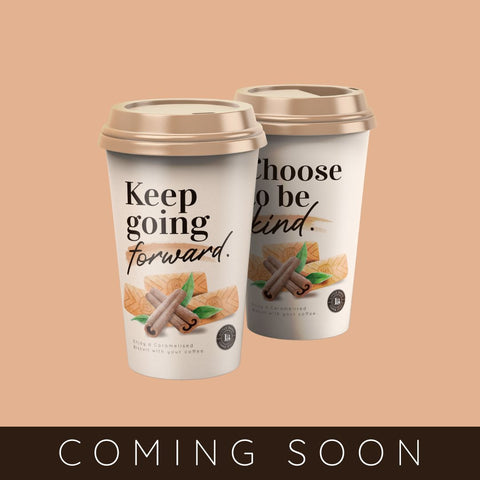 Coffee Cups
Customers can take away a motivational message with every coffee order - perfectly paired with our biscuits!
Available for eligible customers. Terms & Conditions apply.