My Little Pizza
Brought to you by Il Uno Artisan, our 6" Cheese & Tomato Focaccia Pizza Bases are a delicious, healthy lunch option for your school canteen or childcare centre.
Boasting the same authentic Italian flavour and premium crust as our 9" and 12" Margherita range, these smaller pizza bases are lower in sodium with only 340mg per 100g and are perfect for kids!
We even provide FREE* lunch bags that offer young consumers the chance to win dough-licious prizes by entering our My Little Pizza x Dough Tribe monthly competitions!
The Ultimate Pizza Solution
EARN UP TO 70% GP & BEYOND IN 3 EASY STEPS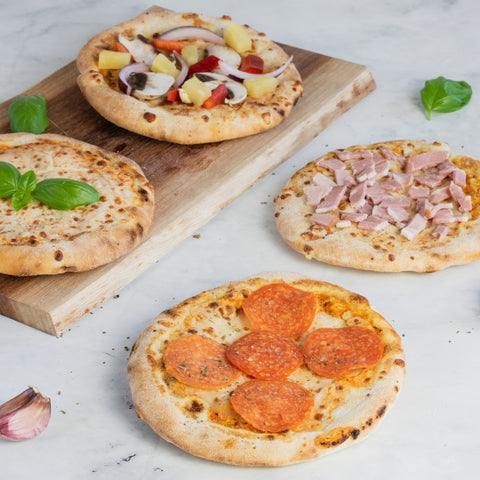 1. PREP
Add Toppings
Simply add toppings to frozen pizza bases and store in freezer between layers of baking paper.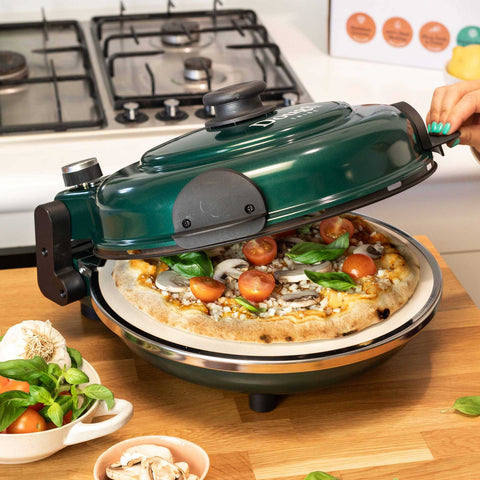 2. COOK
Cook In Minutes
Defrost pizzas and cook to perfection in any oven, or ask about our FREE* Pizzeria Pro Stone Base Oven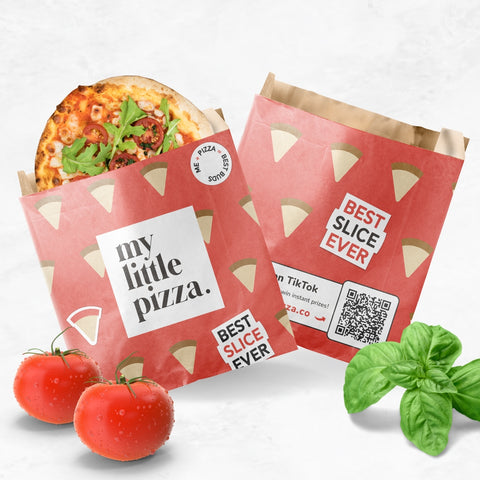 3. SERVE
Feed Hungry Mouths!
Serve at your school canteen or childcare centre using our FREE* vibrant lunch bags.
Why You'll Love Our Pizza Bases

Crafted in Italy by a Pizzaiolo who has more love for pizza than your Nonna. We deliver customers an authentic taste experience, without the travel.

Our dough features a combination of premium Italian flours that contains less gluten than regular flours, offering superb taste and easy digestion.

We give our dough the perfect amount of time it needs to leaven; achieving a light airy base and in the case of our Neopolitan bases, fluffy crusts.

Our dough is delicately hand-stretched to ensure each pizza base has its own unique appearance in shape, dough bubbles and char. No two bases are alike.

Our pizza bases are partially baked in traditional wood-fired stone pizza ovens, enhancing the aroma and flavour with a subtle hint of smoke.
Our Mission
Our canteen-focused brand, My Little Pizza, is designed to create healthier, simple lunches for kids, while also providing schools and childcares with a quick and easy solution.
Our delicious 6" Focaccia Pizza Bases come pre-topped with cheese & tomato so all you have to do is add toppings and cook! Crafted with an authentic Italian recipe and par-baked to perfection, these low-sodium pizza bases cook fast in any oven.
Kids will love the taste, and you will love the simplicity!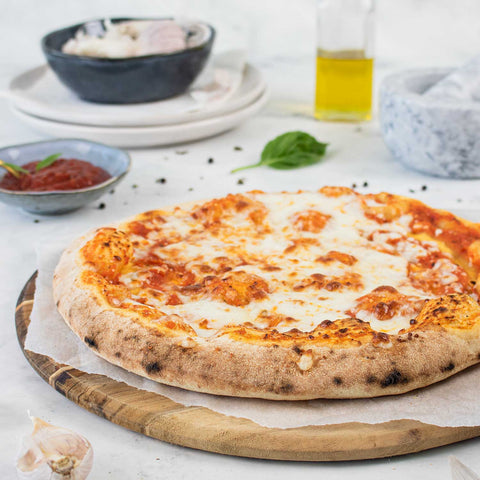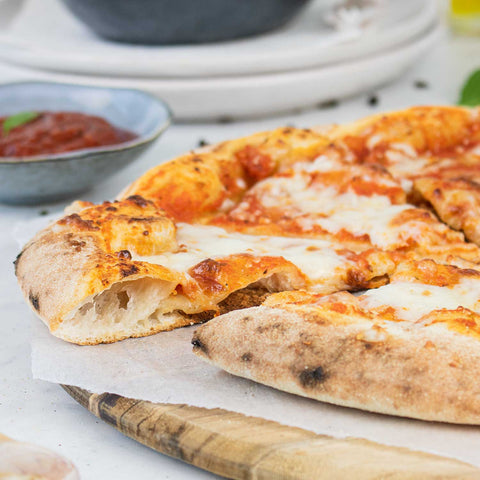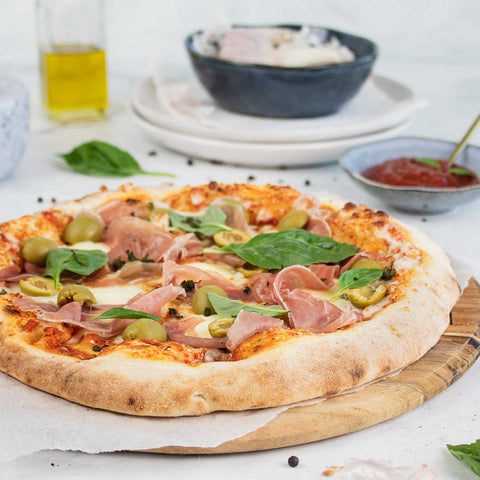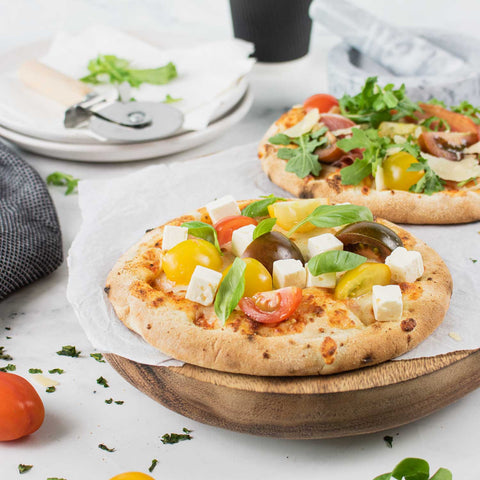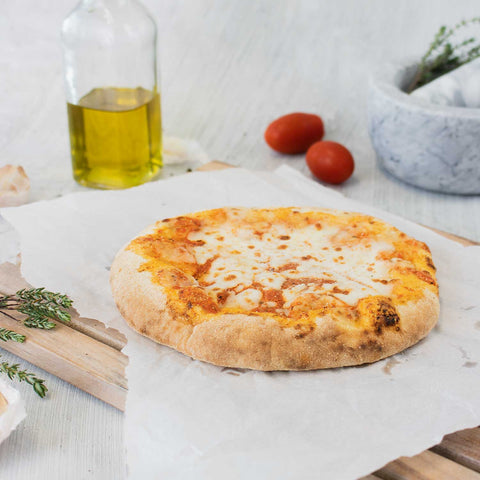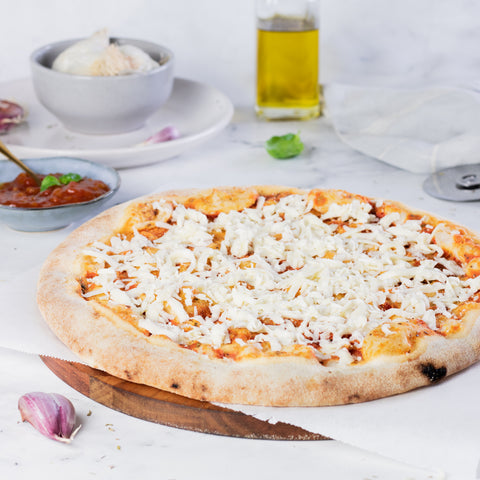 Napoli Margherita Pizza Bases (Premium Crust)
Transport your customers to Italy with our pre-made Artisan Margherita Pizza Bases. Delicately hand-stretched, authentically made, and topped with Italian tomato polpa and creamy mozzarella. Our Margherita Pizza Bases feature a premium Napoli crust, with thicker, higher bubbled ends and softer dough, honouring authentic Neapolitan techniques. 

Our Pizza Bases are lovingly crafted with an authentic Italian recipe and include only the highest-quality, freshest ingredients. Easily cut down on wastage and costs in your food service, hospitality or retail business with our par-baked Margherita Bases!

Host Pizza Events & Fundraisers
WE PROVIDE ALL EQUIPMENT AND SET-UP FOR PIZZA EVENTS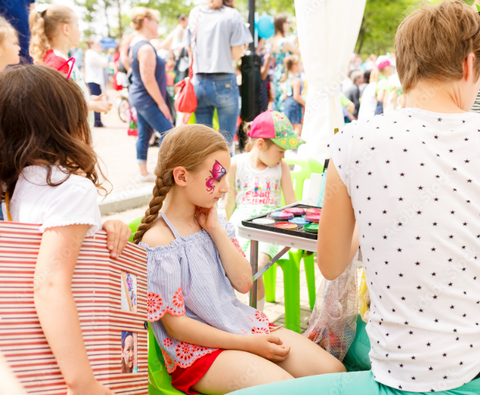 School Fetes
Running a pizza stall at your next school fete couldn't be easier. Save time and avoid the cost of organising third-party food trucks; Our team can set up a My Little Pizza stand display and supply all cooking equipment for you... all you have to do is buy Focaccia Pizza Bases to sell and operate the stand!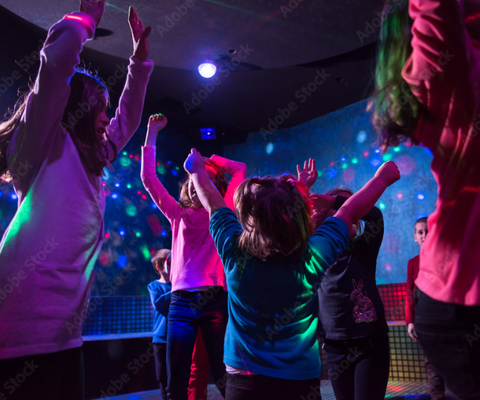 Formals & Discos
What makes a school-aged dance even better than just great tunes and a photobooth? HOT, delicious pizza! Our pre-topped Cheese & Tomato Focaccia Pizza Bases are so quick and easy to cook in batches and can be enjoyed with or without toppings - the perfect feed for hungry kids!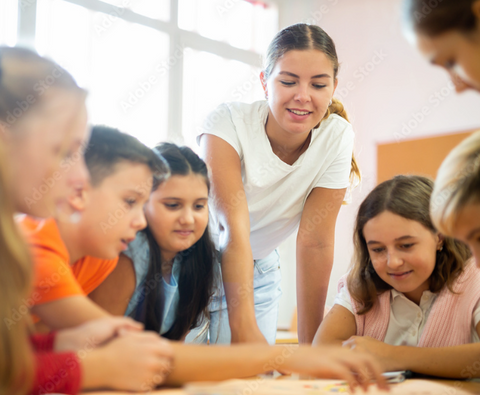 Trivia Nights
Thinking of hosting a games day or trivia night at your school or childcare? Keep guests' hunger satisfied by adding authentic Italian pizza to your menu offering. We can assist with set-up and suggest a range of vegetarian and savoury meat recipes that will keep them coming back each week!
FREE* Pizza Lunch Bags
Take advantage of our complimentary tuckshop bag offering when you meet MOQ on your 6" Cheese & Tomato Focaccia Pizza Base order. Fun and vibrant, these bag are easy to store, and make serving and eating hot pizza all the more simple.
Enter to Win Prizes!
Engage students with the chance to win awesome prizes every month by entering our My Little Pizza competition! Our tasty prize pool is proudly brought to you by Dough Tribe.
Simply scan the QR code on the back of the MLP lunch bag to enter - staff can enter too!
Top 4 Kid-Approved Recipes
Cheese & Tomato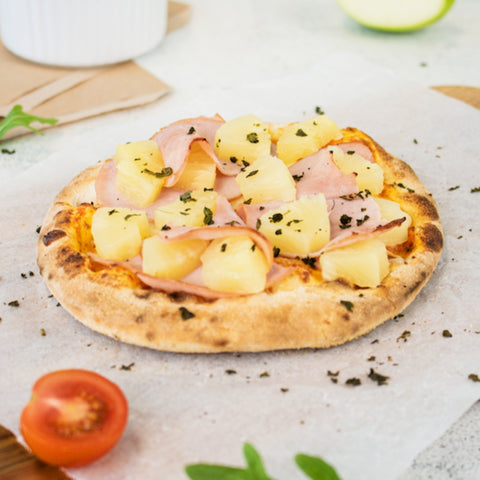 Ham & Pineapple
Pepperoni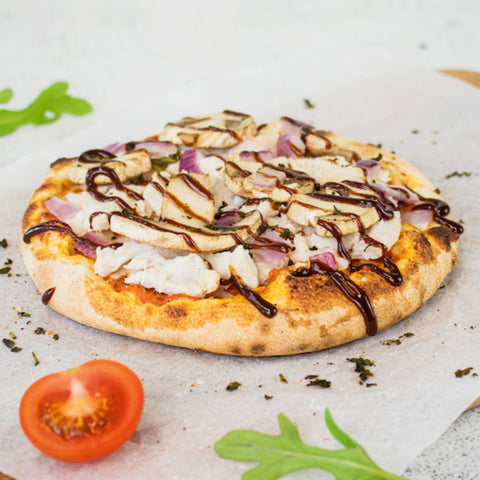 BBQ Chicken
KARYN
Canteen Manager, QLD
I've tried these pizzas myself and they are as good as they look. We started off with a Tuesday 'Pizza Day' lunch option and it's been so popular with the kids we are now offering these all week. So easy to change up the toppings and cook up as needed so no waste.
How do I order my complimentary pizza lunch bags?
To check MOQ requirements and organise your complimentary 6" Focaccia Pizza Base add-on, please contact our team.
Where can I find nutritional information?
Are your pizza bases Gluten Free?
Unfortunately, none of our bases are currently gluten-free. We do have a Gluten Free Plain Base in the works, if you're interested please contact our team.
Are your pizza bases Vegan and Vegetarian?
Our range of Plain Pizza Bases contain no animal and dairy products, therefore is vegetarian and vegan friendly. Due to the factory of production, it is mindful to note that they may contain traces of fish and soy.

Our Margherita Pizza Bases are vegetarian, containing no meat products. Due to the place of production, it is mindful to note that they may also contain traces of fish and soy.
Can I cook your pizzas from frozen?
We do not recommend cooking your Il Uno Artisan pizza bases from frozen. The cheese will not have adequate time to melt and may cause burning of both the cheese and base.

For best results, thaw/defrost the frozen pizza base for 30 minutes prior to cooking.
How many pizzas bases are in a carton?
This will differ among each product. You can find carton configuration information by viewing the 'Specifications' section on each product listing. You can browse all products here.
What is the shelf life of your pizza bases?
The frozen shelf life of our Focaccia Pizza Bases (stored at -18°C) is 18 months.
The chilled shelf life is 3 days (72 hours). Once it is defrosted, do not refreeze.
My oven is faulty, what do I do?
If you find that your oven is faulty, request a new oven using this Oven Request Form
*Free pizza oven is available to eligible customers. Get in touch to find out more. **Free lunch bags are subject to terms & conditions.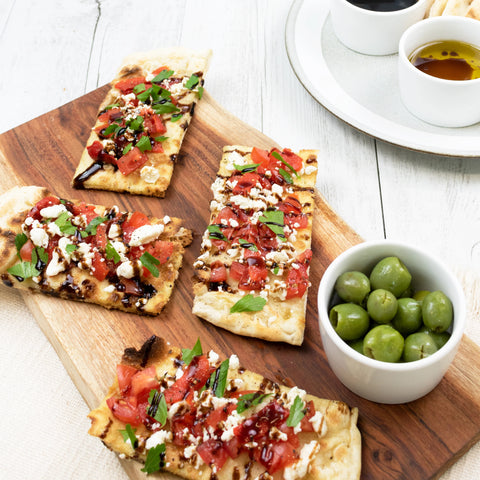 With these 4 easy pizza recipes using our versatile plain bases, you...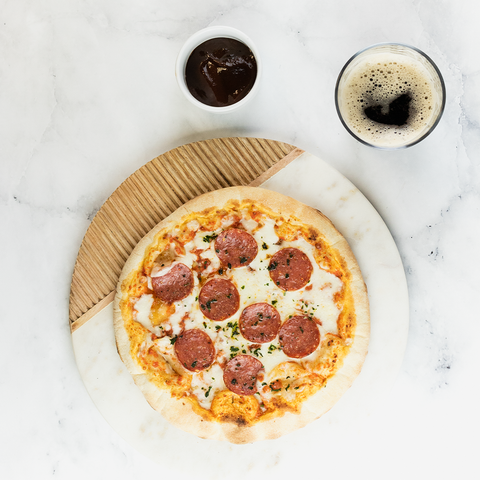 For the best pizza and beer pairings, we've put together a full list of our favourite pizza and beer combinations, from Margherita and Pale Ale to Pepperoni and Brown Ale, you can't go wrong with these beer and pizza pairings.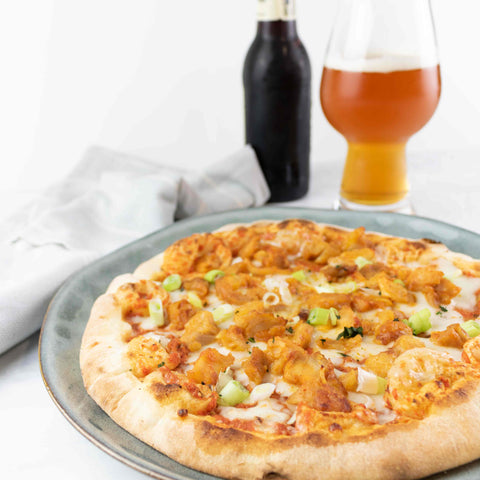 One of the best ways to increase sales, profits and customer satisfaction in your foodservice venue or restaurant is by introducing combo deals or "combination deals". You can easily maximise your profits by increasing your customer's overall total order value. Here's how...
Easily introduce Mediterranean flavours to your menu with this delicious and hearty loaded Greek Lamb Pizza recipe! This warm winter recipe perfectly combines Greek flavours and ingredients (like tzatziki) with succulent lamb and zesty, fresh vegetables.   
Topped with decadent Nutella, fresh strawberries and sweet Little Bakes biscuits, this easy Loaded Dessert Pizza Recipe is the perfect addition to your dessert menu. Offering dessert pizzas at your venue is an excellent way to upsell, increase sales and gain customer interest.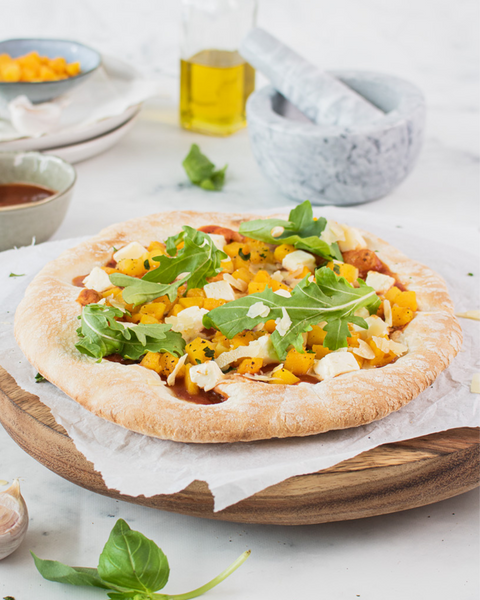 If you're after a quick, hearty veggie pizza recipe that you can easily implement in your venue, you've come to the right place. This Pumpkin and Feta Pizza combines seasonal, rich vegetables and fresh, creamy cheese, resulting in a perfect hearty winter recipe.